Value-based, fixed fee pricing for comprehensive services
SoundLegal is dedicated to producing straightforward, plain-English legal advice. Our services are underpinned by the philosophy that practical solutions exist for your specific needs. 
By engaging with SoundLegal, you are choosing to work with reliable lawyers who will work quickly and effectively to get to know your company and provide simple, realistic solutions. SoundLegal combines professionalism and a solid corporate background with financially sound objectives, offering consultations for businesses who need guidance, advice and representation around: 
So you'd like to know how much it costs for SoundLegal to help you manage your contract risk?
Wait no longer, download our current Pricing Guide.
You need: A short, plain English document that protects you and captures the terms of your commercial relationships.  

We provide: Contract templates that are easy to understand, free of legal jargon and specially tailored to your business and industry. We create contracts that help you and your clients achieve the best possible project outcome. We regularly prepare contracts for the construction and engineering industry, including contracts, subcontracts, consulting services agreements, plant hire agreements, labour hire agreements, purchase order terms and conditions, confidentiality agreements and supply agreements.

We also have extensive experience preparing commercial documents in a variety of other industries. We have recently drafted template services agreements, referral agreements, agency agreements, wedding planning agreements, online course terms and conditions, photographers' agreements, website terms and conditions for e-commerce, privacy policies, gym membership contracts and ambassador agreements. 
Tender and bid stage contract reviews
You need: A contract or request for proposal reviewed urgently to support your development of a bid or tender response for an infrastructure, construction, engineering or design services project.
We provide: A professional, carefully checked clarifications schedule  highlighting major legal issues and proposing practical amendments intended to achieve an appropriate balance of risk between the parties. We draft and propose amendments in the way that is most likely to be accepted. We also advise on alternative risk management strategies, including project management and insurance. 
We have experience with a range of delivery models including: 
SoundLegal's Top 10 clauses to look for in construction, engineering and consultant contracts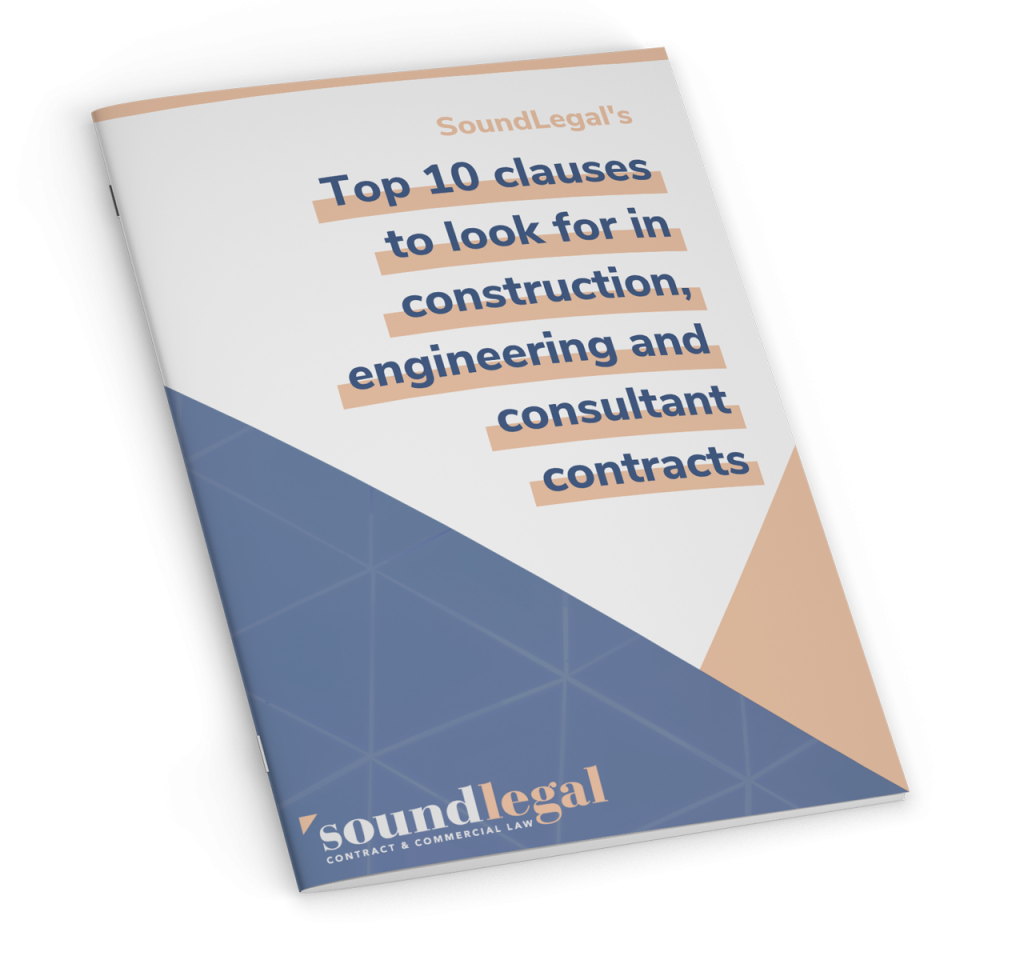 Want to know exactly what clauses the SoundLegal team focuses on when drafting and reviewing construction, engineering and commercial contracts? Get our free checklist to manage your contract risk.
Enter your email to get our free checklist:
You need: To reinforce your existing risk management strategies by upskilling your commercial team.
We provide: Development and remote or in-person delivery of training on contractual and commercial legal issues to commercial managers and salespeople, tailored specifically to industry/audience. 
You need: General commercial legal advice relating to any facet of your business operations.
We provide: Easy to understand and practical legal solutions to help you appreciate and protect yourself from risks concerning: